I got exactly what I wanted for my birthday!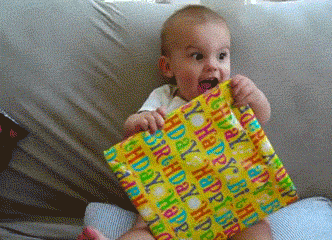 Now that we've addressed my reaction to the perfect gifts, I'll gladly share my shiny treasures! La Bella Vernice Feeling Blue and Feeling Shameless (as well as more shiny pretties I'll swatch later!) made their way into my collection and I have been obsessed with them since! I can't stop playing with the temperature and ogling the holo payoff. These polishes are gorgeous!
After being under hot tap water
Both colors are very sheer when applied and need at least 3 coats for full coverage. Feeling Blue was a bit more sheer (especially when warm). I did notice that both had a grittier formula, but that was easily remedied with a top coat.
After being in cold tap water
Let's talk SHIFT. Feeling Shameless easily changes colors between a beautiful cornflower blue to a vibrant blurple. Running my hands under the faucet causes quick and dramatic shifts in color. When my fingers get cold while working, the purple lets me know to grab a lap blanket!
After being under ice water
Feeling Blue is a bit shyer and requires a more dramatic temperature change to see the shift from a light Cinderella blue/grey to a darker cornflower blue. When the house gets cold, it is a bit darker than its "warm" tone, but unless I have ice on hand I don't get to see the vibrant blue color. That doesn't bother me as the Cinderella blue/grey is one of my favorite colors.
Index and Middle: Hot / Ring and Pinky: Ice Cold
I'm over the moon for these two (especially together!) and they only solidified in my mind the need for more temperature affected polishes. Do you have any recommendations?